From Our Village to Theirs
Pashmina shawls, handmade soap, silk scarves and embroidered purses, all made by Afghans, are sold at Beyond the Mountains events to benefit a girls' school just an hour from Kabul.
In the summer of 2003, Lisa was living in Afghanistan and working on a project to develop Afghan media. She went to a village southeast of Kabul to supervise a workshop in basic journalism skills for new reporters.
"We arrived early that morning to learn that a small school had been attacked overnight by an opponent of education for girls," she recalls. "So our workshop focus became covering this news story. The trainers and I went with the group of reporters to the humble dirt compound, next to the home of the principal and founder, and saw a heart-rending sight: dozens of sad little girls, some weeping, looking at the burned desks and cracked chalkboards where they'd been excitedly learning the day before.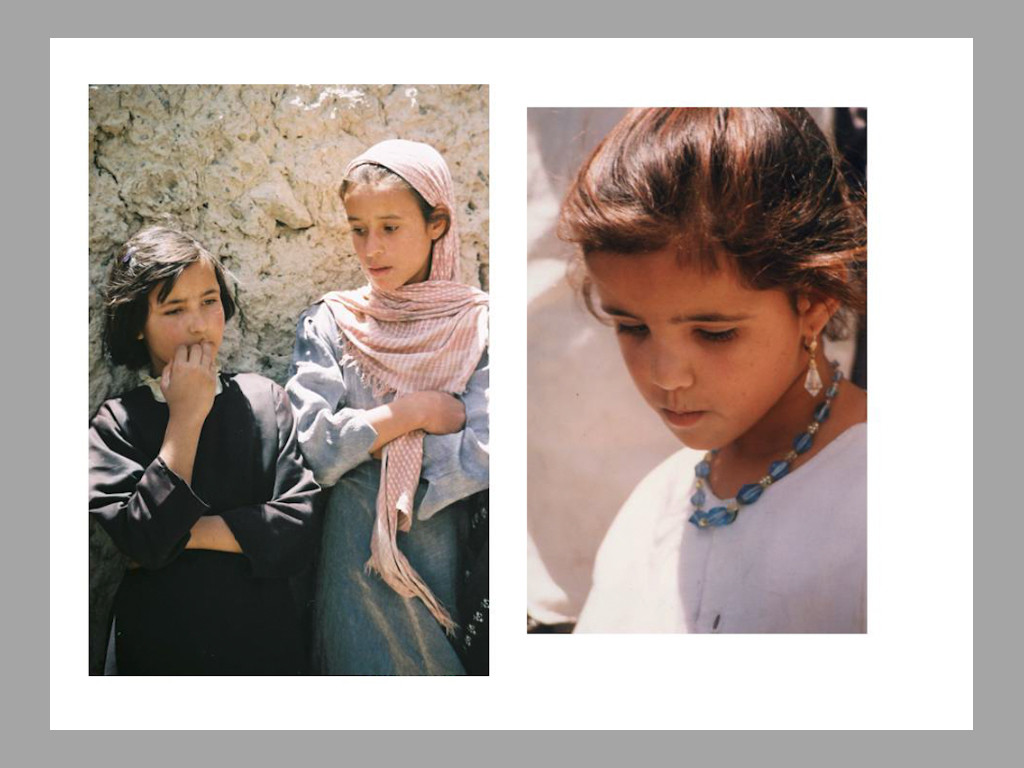 "One girl, who was about six, said, 'I want to be a doctor when I grow up. Why would someone burn down my school?' Their mothers and sisters, who had been denied an education under the Taliban regime, also mourned the loss of the school.
"But the principal was undeterred: The school would go on, and no threats would stop them. I was very moved by the strong determination of people in the village, especially the little girls. With the help of staff members who had relatives in the village, I began to look for ways to assist them as they built a new school."
On a donated plot of land, set high up, the principal built the new school. Lisa's family members helped villagers to pay for the initial construction of the school, and Japanese foreign aid funds later paid to continue it.
After moving back to the U.S., Lisa raised the money to finish and furnish the library, which had been left standing as empty brick walls when funding ran out.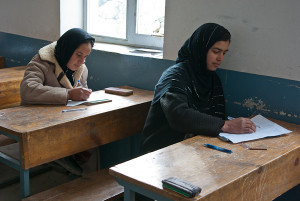 The school this year has more has 700 students, many of whom walk several kilometers each way to attend.  In 2011 the school will have its first graduating class of 12th graders.
Current fundraising efforts are going to supply the girls and their teachers with more textbooks, basic supplies and resource materials like globes, dictionaries and advanced reference books.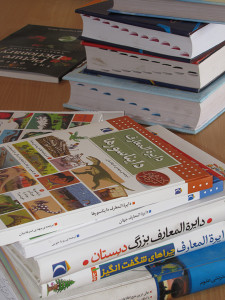 Lisa gives all the profits from the sales of Afghan goods directly to the school. [Information about the products that she sells can be found by clicking here.]
For cash contributions, donors can write personal greetings to the girls on labels which are placed inside books given to the school.  You can making a donation by check or via PayPal; please contact Lisa using the contact form.
There are no administrative costs charged to this project.