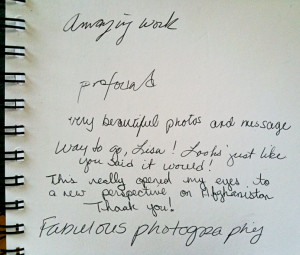 Comments about Beyond the Mountains,  from the guestbook, emails, and Facebook:
~The most impressive exhibit we have seen. It had a feeling, a heartbeat of its own.
~Your photos capture all human emotions – joy, sorrow, potential, hope. Feeling emotions through photos, we connect as human beings. Fabulous!
~Thank you for reminding us that there are real people all over the world.
~The photos speak to you. Lovely!
~Beautiful presentation of sensitive work. … The photos reflect the relationship with the photographer as well as their culture.
~You made the people real.
~This really opened my eyes to a new perspective on Afghanistan – Thank you!
~These are beautiful. Your photos always are, but these are different. I completely forget they are through the eyes of another. You, the photographer, are completely absorbed into the place somehow.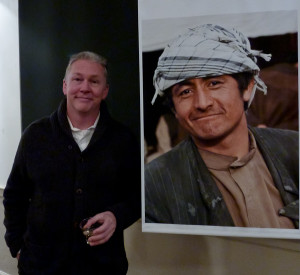 ~I feel a new and sincere affinity with Afghanistan and its people
~They talk to me. This is the most dynamic show I've ever seen – no exceptions!
~So very insightful. More need to hear this
~I just returned from my second trip to see Lisa's show and hear their talk. I enjoyed it so much the first time that I brought my husband back today. He really enjoyed it and I found it just as interesting the second time.
~Helpful in understanding what a few people can do!
~Moving photographs Lisa – classics!
~Just made me want to weep, they are so beautiful…. Wish it were safe for me to go with you, the children and old folks are so lovely.
~AWESOME – needs to be shared with more
~Your photos came alive as I listened to your so very effective recording… so clear and crisp and showing the great feeling you have for the people of Afghanistan… how beautifully your commentary illuminated the beautiful photographs.
~Very beautiful photos and message
~Loved, loved your show! You have amazing talent! Your photography is awesome!!!
~Profound
~Wow Lisa, that is REALLY beautiful work! You have really evolved as a photographer. You are an inspiration and one gutsy woman!
You can also comment by using the Contact form on this site.