Arif Shafi was in high spirits last weekend. After years as a freelancer, the young journalist had landed a job with a news agency in Kabul. He would be leaving Pakistan on Tuesday to start work as an editor with Pajhwok Afghan News on May 1.
Monday morning, on the way to an assignment, he stopped to buy a newspaper near Hayatabad, Peshawar. As he stood at the newsstand, a suicide bomber rammed an explosive-laden motorbike into a nearby police van, killing 10 people and injuring more than 60.
Shafi, 37, was among the dead. Shafi was known as a promising and hardworking journalist among colleagues and friends, including the team at UPI Next Pakistan, where he was a contributing reporter. He leaves behind a widow and three children: son Khizar, 7, and daughters Maleeha, 6 and Yusra, 4.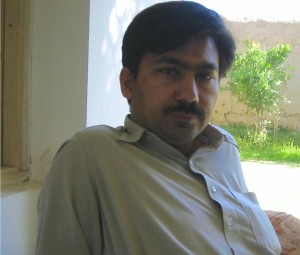 Shafi regularly contributed to several news outlets as a reporter and editor, include Pajhwok, Afghanistan Today, PACT Radio and Youth View Magazine. A collection of his recent articles can be viewed at his blog and at Google Plus.
He earned a master's degree in International Relations from the University of Peshawar.
Shafi had worked in the English service at Pajhwok Afghan News in Kabul in 2011-12. There he met Lisa Schnellinger, Baraka Foundation Board President, who manages the UPI Next Pakistan project.
Schnellinger said she is "heartsick" about Shafi's death. "Arif was one of the most diligent reporters  contributing to UPI Next's political Wiki creation and story mentoring process.
"Some journalists take the lazy route; not Arif.  This is a terrible loss for Pakistan at a time when the country so desperately needs honest and hard-working people like him."
A fundraising page for Shafi's family at Indiegogo: Arif Shafi Memorial Fund 
Source: UPI NEXT